REVIEWS
ARTFORUM - December, 2011
by Nuit Banai
"... Resonating with Weiner's Declaration of Intent, 1969, this project emphasizes Atatürk's plural condition as an adaptive visual, material, and discursive representation whose particular instantiation depends on its site and sphere of reception. Just as the artists cannot know the full ramifications of their own actions, neither can the long-term symbolic economy of Atatürk's image be foreseen; indeed it remains in a state of permanent potentiality for future acts of speech."
Boston Globe - October 17, 2011
by Mark Feeney
"... unusually intelligent and ambitious. A small show, it seeks to put us inside the mind of a country of 75 million people."
Journal of Modern and Contemporary Art of the Arab World, Iran and Turkey - July, 2011
by Berin Golonu
"... Ultimately, The State of Ata poses the narratives of the Kemalist propaganda machine in contrast to those of the Islamist propaganda machine, and sets up a dialectic between the two in an attempt to dismantle the totalizing claims made by any state ideology."

mashallahnews.com - May 11, 2011
by Clément Girardot
"Published last year, the result is an impressive art book entitled "The State of Ata, The contested imagery of power in Turkey". They have developed a highly original approach; this is no theoretical semiology of the great leader, but rather a collection of social experiments, travel reports, interviews and personal stories. "

Etienne Copeaux's blog - February, 2011
by Etienne Copeaux
"Il s'agit presque d'une encyclopédie de la sémiologie du pouvoir en Turquie. Mais cette sémiologie est dûment spatialisée par les auteurs, c'est une topologie autant qu'une sémiologie, une géographie de la vie quotidienne et une géographie de l'obsession et – même si la Turquie n'est pas une dictature – de l'oppression. Ou plutôt une sémiologie qui peut servir à l'oppression, qui peut être oppressive."
Kaleidoscope - Fall 2010
by Leah Whitman-Salkin
Taraf - August 26, 2010
by Erkan Doganay
Levantine Heritage - August 2010
conversation with Craig Encer
ARTBOOK - June 29, 2010
D.A.P.s blog features an interview with Mandel & Zakari
"Mike Mandel and Chantal Zakari conceived the book as a collection of books within a book—a photograph album, a volume of military portraits, a diary—and the result is a unique travelogue that tackles its topic from multiple angles. Here, Mike and Chantal talk to ARTBOOK about the book's genesis, tales from their journey and the censorship issues that the book has already met with."

PhotoworksUK - May, 2010
Journey to the Margins of Turkish Politics
book review by Arzu Ozkal
"Mandel and Zakari deconstruct Turkish cultural myths during their unconventional journey chronicled in the pages of The State of Ata. It is a stunning collection of photographs (mainly taken by the couple), memoirs, interviews, documents, and documentation of small-scale interventions. The book represents not only the major ideological groups: Kemalists and Islamists, but also a wide demography of people from various backgrounds, belief systems, and ethnicities. The writers create the frame for a transdisciplinary dialogue among theologians, sociologists, historians and artists."
Conscientious - May 14, 2010
by Joerg Colberg
"I can't remember a book where someone would be so happy (and so daring!) to mix so much seemingly different work - and pull it off! Chantal Zakari and Mike Mandel clearly are presenting the work in the best possible way, learning about what holds a country together (or might tear it apart) has not been this interesting in a while! Impressive!"
Vatan - May 8, 2010
by Tugrul Tanligil
(click here for the unedited text of the actual interview)

Boston Globe - April 25, 2010
by Jan Gardner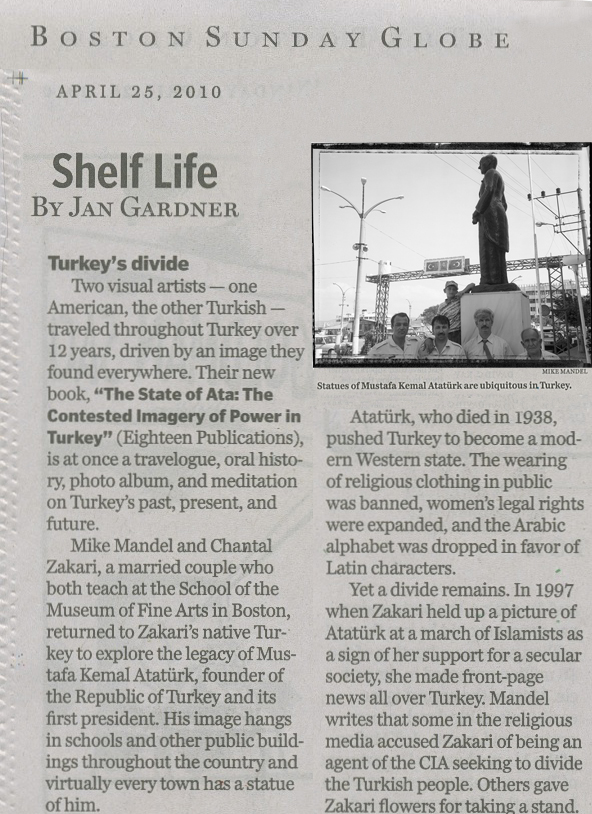 Steve Aishman and Serene Al-Kawas
reviews exhibition at Kennesaw State University
April 25, 2009
Faces of the State: secularism and public life in Turkey
Like a Cross That Stops the Devil...
Yael Navaro-Yashin
2002, Princeton University Press
click to the link and read the chapter through Google books